-Visitors win overall Mr. Physique and Ms. Bikini titlesSURINAME dominated Saturday night's Camille's Academy Stage of Champions IV by winning all the major titles up for grabs, including the coveted overall trophy and $200,000, which was won by Mr. Suriname 2019, Fabian Wehl.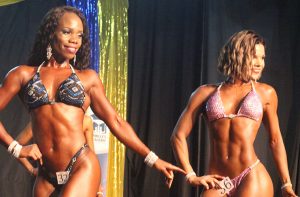 Ms. Bikini winner Malitia Galimo (left) and second place finisher, Rosanna FungThe international battle lived up to expectation with a large influx of Surinamese and competitors from Trinidad and Tobago and Antigua and Barbuda travelling to challenge their local counterparts at the Theatre Guild in Kingston, Georgetown.The event was not without its moments and although it might not have been the results that the locals were anticipating, there were some nostalgic periods, especially with Sylvan Gardner turning back the years to make his way into the championship round, but the 37-year-old Wehl was in immaculate condition and his imposing frame made him a clear favourite.The Surinamese biggest challenge was actually in the heavyweight division, which had some well-sculpted specimens. Our local boys Carlos Petterson (eighth position) and Julio Sinclair (seventh) finished at the bottom in that division.The final four of the heavyweight class were all Surinamese and the striking Sergio Holwyn, a crowd favourite, finished a close second. Jermin Karg placed third, while Jermain Weisen settled for fourth.Multiple-time winner of the Senior National title in the Twin Island Republic, Michael Callender, finished fifth, whilst Antigua and Barbuda's representative, Warren English, placed sixth.English, a Guyanese by birth, opted for a smaller look than when he guest-posed at the Senior National Championships in August, which seemingly worked against him.TURNING BACK TIMEThe favourite battle for the local audience took place earlier when Gardner was able to upstage Mr. Guyana 2019, Marlon Bennett, in the Under 154 pounds division—in a five-member all-Guyanese showdown.The four-time CAC gold medal winner, Gardner, who was a late addition to team Guyana, looked very proportional.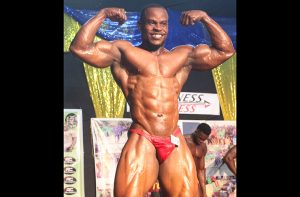 Fabian Wehl is Mr. Stage of Champions 2019.Darious Ramsammy, who just returned from the CAC, placed third while Andre Wagner copped fourth and Donald Lindie fifth.Rising star, Derran Harris also featured in the overall championship clash. The 26-year-old was the only other Guyanese to win a division title.In a repeat of the Senior National Championships, he again upstaged Tejpaul Gwendsammy in the Under-143 pounds battle. Ghamsham Goberdan placed third.Neither Gardner nor Harris finished in the top three in the overall battle. The latter bowed out at fifth position, while Guyana's most accomplished CAC champion, Gardner, finished fourth.Wehl, who later claimed that the championship trophy was one of the best in his career, finished ahead of compatriot, Randal Haakmat, who had won the U164 division.T&T's 2018 National Junior Champion, Barry Copilah placed third. Copilah had edged past Guyanese Lindon 'Muscles' Burnett, who impressed the audience in the U176 division.Mr. PHYSIQUEWithout the services of two of our best Mr. Physique campaigners, Emmerson Campbell and Yannick Grimes, who just represented Guyana at the CAC Bodybuilding Championships, and without second place finisher at this year's National Championships, Tariq Dakhil, leadership was left on the shoulders of Delroy Phillips, who is the reigning Mr. Physique novice.Although Phillips was tapered and looked solid, Rudolph Getrouwcosta and fellow Surinamese Fernando Krak (second place) beat him into third place.Two other Guyanese battled in the eight-person competition: Renaldo Caldeira placed fifth, while Johnathan Jeffery finished sixth.Meanwhile, in the Ms. Bikini battle, a tanned 2019 Senior Champions winner, Rosanna Fung, settled for second place behind Surinamese Malitia Galimo.The other Guyanese in the five-woman competition, Amrita Sewdas, settled for fifth. Sewdas lacked confidence on stage, which was to her detriment.